Airthings Space Hub
Air Quality Eco System Hub
Air Quality System Solution
Smartlink IOT Protocol
Devices will always connect to the closest Hub
Additional Hubs can be installed to increase coverage
Power Supply Adapter included
LED Status Indicators for Power, Cloud and Device Connection
Select
Available Next Day
45 in stock
Compatible Accessories
Airthings Space CO2
Airthings Space CO2
Air Quality Eco System Monitor
Select
Available Next Day
Airthings Space Pro
Airthings Space Pro
Air Quality Eco System Monitor
Select
Available Next Day
Airthings Space Plus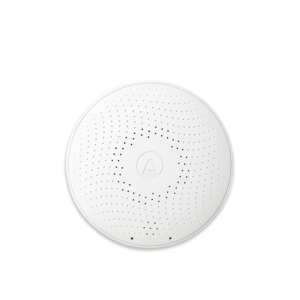 Airthings Space Plus
Air Quality Eco System Monitor
Select
Available Next Day
Overview
The Space Hub is an integral part of the Airthings ecosystem which collects data from in-range sensors and provides real-time access to all the information you need to optimise air quality in your building.
Features and Benefits
SmartLink
Long range and low power IoT protocol between Hub and Airthings devices. SmartLink connectivity can typically penetrate 3 thick walls/floors or 10 drywalls (non-loadbearing walls).
Automatic Connection
Airthings devices will always connect to the closest Hub and additional Hubs can be installed to increase coverage.
Ease of Installation
The mounting bracket allows for placing the Space Solution products on a flat surface or fixing it with double-sided tape or screws to the wall.
Network Connection
Space Hub connects to your network via ethernet allowing firewall protection through the existing network or via pre-installed eSIM/SIM card.
Continuous Monitoring
Continuous monitoring of your indoor air quality levels is necessary to minimize potential health effects in all populated spaces. Space Hubs gives you remote access to up-to-date sensor values, no matter where you are via live data streaming to the cloud.
Air Quality
With visibility into your radon and IAQ levels, you can take action to improve air quality, as well as increase productivity, good health, and attendance.
Dashboard Interface
Airthings Dashboard provides remote overview of multiple spaces/sites, overview of levels detected by all monitors, Individual sensor data, floorplan overviews, indoor air quality reports and analytics as well as Energy optimisation and ROI.
Specification
The Space Hub as supplied by Elta Fans shall provide 24/7 access to Airthings indoor air quality devices with detailed information about sensors via the Airthings Dashboard.
Operational Environment
Shall be suitable to operate between 4°C and 40°C
Power Supply
An interchangeable power adapter shall be supplied suitable for 100–240 V AC / 50–60Hz
Dimensions
125 x 125 x 25 mm
Protocol
Airthings SmartLink suitable for long range (>1km line of sight) and low power, it shall support 865-895MHz and 902-924MHz and is based on IEEE 802.15.4g with FHSS, 50kbps.
License
The device shall be supplied with a one year subscription. Set up of Air Quality System solution is not possible without activating account. Further subscriptions can be purchased.
Typical Applications
Commercial
Offices
Commercial Retail
Education and Culture
Colleges and Universities
Schools
Catering
Restaurants and Pubs
Town Halls and Community Centres
Find out more about Airthings
Send us your details in the form below and a member of our team will call you as soon as possible.